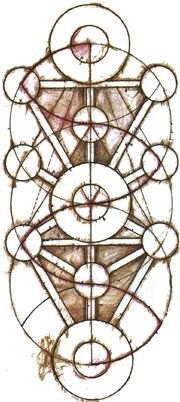 The Tree of Life was a geometric pattern devised by Aughra before the arrival of the Fallen urSkeks to charter the course of the Three Suns.[1]
The urRu used the Tree as the basis for the design of their coats. The Tree was made up of eleven stations which formed a microcosm of seven aspects of the life of the spirit, which was itself placed in a macrocosm of four elements of the physical world. The macrocosm consisted of earth, moon, word and love, while the microcosm was made up of sun, warrior, gateway, force, form, self and source. The patterns of the Tree of Life anticipated the events of Jen's quest[2] though Aughra did not not understand this initially[1]; earth represented the death of urSu, moon the awakening of the shard by Jen's flute, love the encounter with Kira, sun the renewal of the quest, warrior the battle between the Garthim and the Landstriders, gateway the Teeth of Skreesh, self Jen's journey through the vaults of the Castle, form the healing of the Crystal, and source the end of all quests.[2]
References
Edit
↑ 1.0 1.1 Froud, B., Holguin , B., Sheikman, A. & John, L. (2011). The Dark Crystal: Creation Myths, Vol. I. Archaia. ISBN 978-1-936393-00-8
↑ 2.0 2.1 Froud, B. & Llewellyn, J. J., (2003) The World of the Dark Crystal. Pavilion Books. ISBN 1-86205-624-2
Community content is available under
CC-BY-SA
unless otherwise noted.