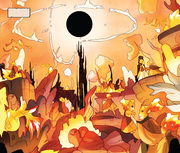 Mithra was a volcanic realm located beneath Thra, accessible from the surface through a cavern in Mount Thranir[1] and the shaft beneath the Crystal.[2] It was nourished by the Mother Sun,[3] and its high temperatures made it largely uninhabitable to surface dwellers.[4]
Among its fauna were the Plasmii,[3] Schekta,[3] and Fragors.[5] During the Age of Division, Mithra was settled by Gelfling exiles lead by Chal and Saluna, whose descendants became the Firelings.[6]
In the closing trine of the Age of Power's first century, Mithra was almost rendered uninhabitable by the Great Dim, due to the light of the Crystal being blocked from replenishing the Mother Sun.[2]
Behind the scenes
Edit
The realm's name was originally the initial name for Thra in Jim Henson's The Mithra Treatment.
References
Edit
Community content is available under
CC-BY-SA
unless otherwise noted.