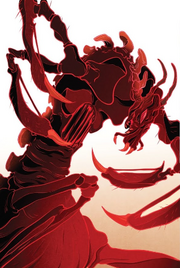 Fragors were large, insect-like creatures that inhabited Mithra. They had the ability to produce high frequency sounds by rubbing the tendons on their abdomens, which could deafen other creatures. When vocalizing in unison, their frequencies could shatter solid objects.[1]
During the Age of Power, the Fire That Stays held several young Fragors hostage and forced their parents to destroy the Hallows in his quest to purify Fireling culture.[2] He subsequently unleashed the Fragors on the Fireling capital, where their song was drowned out by the music of the city's besieged inhabitants.[3] In the heat of battle, Nita rescued one of the young Fragors and thus broke the Fire's control over its parents.[4]
References
Edit
Community content is available under
CC-BY-SA
unless otherwise noted.