Wiki Targeted (Entertainment)
Play Sound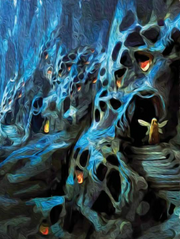 Domrak was a cavernous hall located deep within the cave systems of Grot. It was situated by a large underground lake,[1] and was a half day's journey from the Tomb of Relics.[2]
It originated as an Arathim nest, but was settled by the Grottan Clan during the early Age of Division, after the Arathim had been driven out by the Skeksis.[3] It was also inhabited by vast colonies of Hollerbats, whose guano was made into everburn by the Grottans.[4]
Domrak saw little daylight other than pinpricks of light emanating from tiny holes on its roof. These beams would shine upon marks carved into the cave walls, which the Grottans used for keeping track of time. As there were no naturally occurring sounds announcing the arrival of dawn within the caves, a musician would indicate the rising of the suns outside by playing a firca and singing a tune at the start of each day.[5] The passing of the seasons was measured by calculating the depth of Domrak's lake.[6]
References
[
]